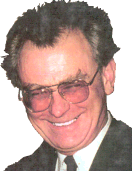 CATAMARANS, TRIMARANS, SWATH, AND OTHER MULTI-HULLS
---
Conceptual design, research, expertise in all types of multi-hulled ships
---
EDUCATION
Doctor of Technical Sciences, Maritime Technical University, St.Petersburg, Russia
Senior Research Specialist Diploma, Krylov Shipbuilding Research Institute, Leningrad, USSR
Candidate of Technical Sciences Diploma, Leningrad Shipbuilding Institute, Leningrad, USSR
Master's Degree in Shipbuilding, Tallinn Polytechnical Institute, Tallinn, Estonia
World-ever English language monographs "Multi-hull ships" (compiler, scientific editor, co-author), was published (in English) in USA, 2001; "Ships with outriggers", USA, 2004; "Ships with small water-plane area", USA, 2007
World-ever Russian language monograph "Multi-hull ships", Leningrad, 1978
About 60 English publications in various marine and shipbuilding magazines
25 certificates of invention (USSR, generally not published) and 2 Russian patents
Methodical collection of lectures, including guest lectures in UK (University College of London), in the Netherlands (Delft University, CONO Ship Co.), USA (Coast Guard Department, Washington University), Canada ( R. Allan Co., University of British Columbia), Sweden (the Department of Defense Ministry)
Current materials and research papers
(available online)
Multi-hulls: some results of development and new technical solutions.. (in Russian)

Effective and inexpensive patrol ship with helicopters and unmanned vehicles (â âåðñòêå)


Specificity and Designing of Multi-Hull Ships and Boats. NOVA publishers, 237 p.
---
WORK EXPERIENCE
1961 – 1964. Senior Design Naval Architect (earlier Design Naval Architect).
Baltic Ship Repair Yard, Tallinn, Estonia (One of the biggest in USSR)
Various aspects of ship design, e.g.:

calculation of general stress distribution
preparation of trim and stability booklets
equipment foundations
docking calculations
1964 – 1967 Post-Graduate Student.
Leningrad Shipbuilding Institute, Leningrad, USSR (Oldest Russian maritime university)
Towing and seaworthiness tests in the towing tank
Application of the world first method predicting resistance of thin hull catamarans in function of variation of their main dimensions
1967 – 1970. Senior Research Specialist (earlier Junior).
Central Research Institute for Merchant Marine, Leningrad. (Main research center serving Russian Merchant Fleet)
Initial design stages of arctic barge-carrier "Sevmorput"
Calculations Booklet to predict technical quality of new ship concepts (barge-carriers, trade helicopter-carriers, other)
1970 - 2001. Leading Research Specialist (earlier Senior)
Krylov Shipbuilding Research Institute, St.Petersburg, Russia. (Russia's biggest and world-famous center of shipbuilding sciences)
Concept design, research and development of multihulled ships.
More than 30 new concept designs, including:

concept designing of a new type of super-fast ship (speed twice that of then-typical fast vessel, at improved seaworthiness at all speeds - ferries, patrol and battle ships, displacements 20-1000 t, speeds 80-130 kn);
concept designing of a new SWATH hull form for all-weather fast ferries, motor yachts, patrol and battle ships, aircraft and helicopter carriers and the like, displacements 15-3,500-60,000 t, speeds 30-70 kn in Sea State 3-6;
economical SWATH-platforms for new types of vessels, like transatlantic and feeder container-carriers with up to 40 kn speed;
all-weather passenger ships for remote coastal operation and luxury passenger cruise ships;
small economical shallow-draft fishing and river transport vessels, tugs with tractor motors, ship-platform with snake propulsor, etc.

Heading complex scientific and designing programs (including collaboration with design offices).
Development of design software for multi-hull vessels (both conventional and SWATH).
Development of and testing the world first systematic model series of catamarans, trimarans, twin- and triple-hulled SWA ships, and ships with outriggers, including collection and analysis of full-scale data and propulsion data.
Prototype tests in waves, development of complex seaworthiness comparison method. Systematic calculations of plate thickness and hull weight for SWATH and catamarans.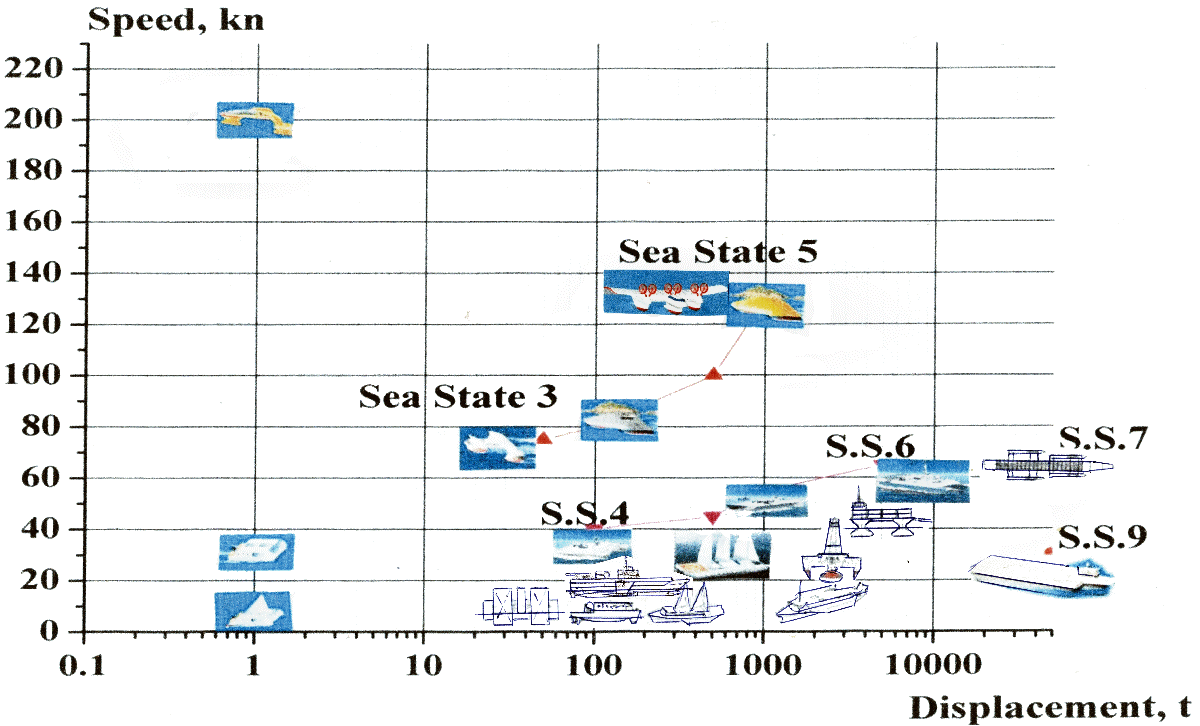 ---
Home phone (7-812) 776-42-52, mobile phone +7-921-984-1953.
E-mail: multi-hulls@yandex.ru